Maintaining and managing apartments and villas in the NCR (national capital region) is our specialty. Our Property Management Services are geared to provide absentee owners their peace of mind by having professionals taking care of their properties. We respect the trust that property owners place in us and take pride in the level of integrity we return.
If you want the security of owning real estate in India, mainly

NCR region


but don't have the time to maintain it,

call us!

Have a dedicated single point of contact,
committed staff member, providing complete personalized attention.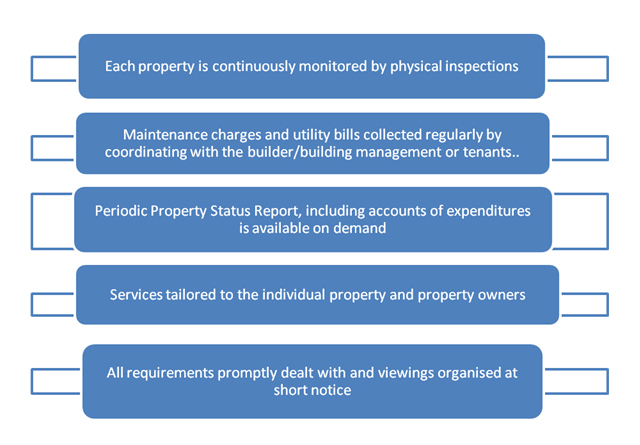 OUR SERVICES
We place the ads, take the calls and Screen potential tenants, show the property and coordinate the lease. Client benefits by dealing with us, as one of our divisions is actively involved in employee relocation services. Most likely, your property will be rented out by one of our corporate clients who maintain property like their very own. We have the resources to maintain your property. Our Property Management offers a comprehensive management package to landlords with dedicated panel of skilled workers for – all day to day maintenance issues as well as for plumbing, water-proofing, pest control, carpentry, electrical work and other maintenance jobs.
ATTRACTING GOOD TENANTS AND KEEPING THEM
Properties in the best locations attract the best tenants.


The property should be clean and well maintained.


Neutral decor in light colors appeal to the majority of prospective tenants.


The person showing the property should have a pleasant attitude.


Be sure the applicant has the ability to pay the rent.


Be prompt to start the eviction process when rent is not paid on time.


Fix maintenance problems promptly.


Respect the rights of your tenant and they will usually respect you.